ShawnLiv iPhone iPod iPad Guides, Free Apps Download, Review, Tips and Tricks
Build your Ultimate Empires – iPhone, iPod, iPad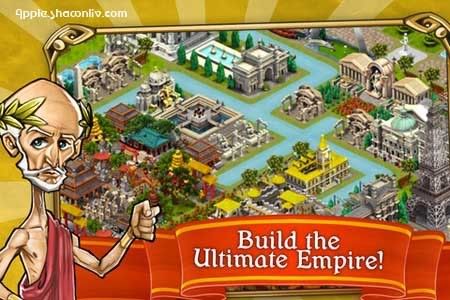 Developer: Playdom, Inc.
Categories: Games
Release Date: Dec 12, 2011
Language: English
Size: 20.4 MB
Price:Free!
Requirements: Compatible with iPhone, iPod touch, and iPad.Requires iOS 4.0 or later.
Description
Can you grow a sleepy village into a powerful empire?
Create a majestic civilization and advance your people through the ages! Build marvels such as Stonehenge, The Great Wall, Pyramids, Coloseum and much more!
Trade, exchange ideas, and even battle other Players!


***** GAME FEATURES ******
– Decorate your city with hundreds of beautiful residential, cultural, and economic buildings
– Grow your city's population from a small village to a bustling metropolitan city
– Expand the borders of your city as you build power and wealth
– Watch over your citizens as they work, play, and parade in your honor
– Fight, trade, and ally with other players to see who will come out on top
– Recruit historic Legends such as Alexander the Great to help you out
QR-Code

Categories
Quick Pick
Popular Posts
Buy Me Coffee
Recent Posts
Blogroll