ShawnLiv iPhone iPod iPad Guides, Free Apps Download, Review, Tips and Tricks
iBook images and text not render properly

If you encounter any problem regarding the iBook Application (after JB 5.01) such as images/text not render properly. You may proceed to Cydia and search for Corona 5.0.1 Untether 1.0-8. In brief, this update fix the remaining iBooks issues that were effecting JB iOS devices running on iOS 5.0.1 firmware.
Read the rest of this entry »
iTunes Apple: MagGames Magazine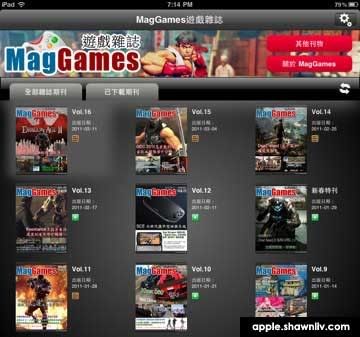 Developer: Muecs Company Limited
Categories: Book
Release Date:May 15, 2011
Language:English
Size:3.3 MB
Price:Free !
Requirements: Compatible with iPhone, iPod touch, and iPad. Requires iOS 4.0 or later.
Free Games Magazine on Your iPhone/iPad

Description
MagGames App issued by Magseed.com. It is a video game magazine about games and professional analysis, hottest search and the latest information.
What's New in Version 3.3
Read the rest of this entry »
Categories
Quick Pick
Buy Me Coffee
Recent Posts
Blogroll