Apple blog reviews, tutorials, news and info. About everything iPhone, iPad, Apple Watch, Mac and iOS.
Be an All Star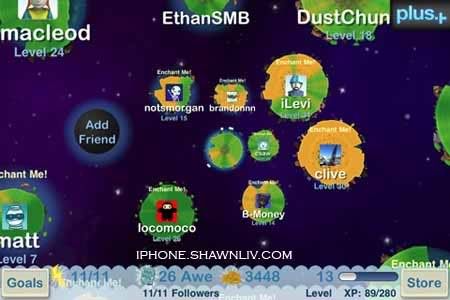 Company:Ngmoco, Inc
Categories: Game
Release Date:2010-10-12
Size:19.4 MB
Price:Free !
Requirements:Compatible with iPhone, iPod touch and iPad. Requires iOS 3.0 or later.
Description:
EXISTING GODFINGER PLAYERS
Be an All Star: Awe and terrorize your followers with godly wonders; send followers leaping through the heavens in the new Jump Game mode; and collect Follower Stars to power up your minions. *EXISTING GODFINGER PLAYERS: Your save data will transfer over to All-Stars when you log into plus+.*

TURN YOUR FOLLOWERS INTO STARS
Wow followers with your wonders to create Follower Stars. Collect them all to level up your followers' star power, earning sweet rewards for you and your friends.
GET JUMPING
Bounce your followers off clouds in the new Jump Game mode to earn bonus gold and Stars.
YOUR WORLD.
Mold your planet in your image. Harness wonders to terraform terrain, turn deserts into lush plains, flood gullies, grow flowers and crush boulders with lightning.
YOUR FRIENDS.
Invite friends to GodFinger to check out your planet. Explore their worlds and Enchant their followers to earn extra gold!
Find news, support, and update info at:
twitter.com/godfingergame
ngmoco.com/godfinger
facebook.com/godfingergame
GodFinger All Stars is powered by plus+, the premier social play network for players on the go.
GodFinger All Stars was designed from the ground up for the iPad, iPhone and iPod touch.
_________
Please, note: internet connectivity is required to play GodFinger All Stars
Enjoy this free little app!
Categories
Quick Pick
Buy Me Coffee
Recent Posts
Blogroll