ShawnLiv iPhone iPod iPad Guides, Free Apps Download, Review, Tips and Tricks
iTunes Apple: Great, Useful and Respected Dictionary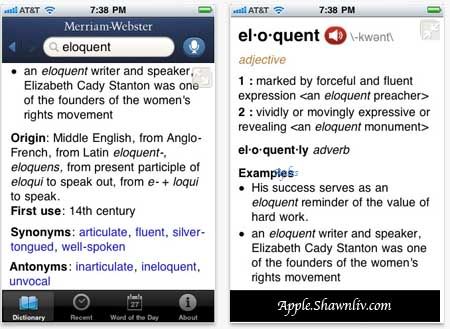 Developer: Merriam-Webster, Inc.
Categories: Reference
Release Date:Apr 11, 2011
Language: English
Size:19.3 MB
Price:Free !
Requirements: Compatible with iPhone, iPod touch, and iPad. Requires iOS 3.0 or later
The free Merriam-Webster app brings America's most useful and respected dictionary to your iPhone.
Description
#1 Free Reference App on the iTunes Store, 1/7/11. In addition to all the definitions from Merriam-Webster's Collegiate Dictionary, the app offers voice search – to let you look up a word without having to spell it – along with synonyms, antonyms, example sentences, Word of the Day, and more. A great tool for reference, education, and vocabulary building.

The app is free, and supported by ads.
Features:
* Voice Search
* Synonyms & Antonyms
* Example Sentences
* Audio Pronunciations
* Word of the Day
* Reader View – lets you hide navigation buttons to see text in full screen
* Recent History – lets you keep track of the words you've looked up
Categories
Quick Pick
Popular Posts
Buy Me Coffee
Recent Posts
Blogroll