Apple blog reviews, tutorials, news and info. About everything iPhone, iPad, Apple Watch, Mac and iOS.
FREE 50 GB lifetime Box app for iPad iPhone iPod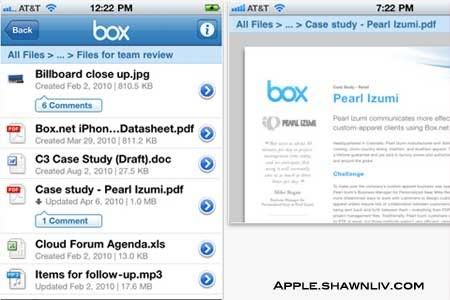 Developer: Box.net, Inc.
Categories: Business
Release Date: October 13, 2011
Language: English
Size: 5.3 MB
Price:Free
Requirements: Compatible with iPhone, iPod touch and iPad. Requires iOS 3.0 or later.
Description
Get a FREE 50 GB lifetime account for file storage and sharing through Dec. 2, 2011. To get your automatic upgrade, download the Box app on your iPhone or iPad and register or sign in to your account – it's that easy. Box provides simple, secure sharing from anywhere – letting you easily store files online, send big files fast, access content on-the-go, and collaborate with others. Box for iPhone and iPad lets you:

• View files directly on your iPhone and iPad
• Share files easily with a link
• Upload photos to your Box account (iPhones only)
• Open files in other apps installed on your device, like Documents to Go and GoodReader (iPads only)
• Secure content with file-level encryption, a four-digit passcode and automatic logout when the app is closed
• Project files from Box to a TV, LCD monitor or projector via AV Out (iPads and iPhone 4S only); wirelessly stream content using AirPlay (iPad 2 and iPhone 4S only)
• Wirelessly print to AirPrint-enabled printers (iPads only)
QR-Code


Click Here To Download
Comments Off

on Get a FREE 50 GB lifetime account now !
|
Categories
Quick Pick
Buy Me Coffee
Recent Posts
Blogroll