Apple blog reviews, tutorials, news and info. About everything iPhone, iPad, Apple Watch, Mac and iOS.
Free Photo Guard for iPad iPhone iPod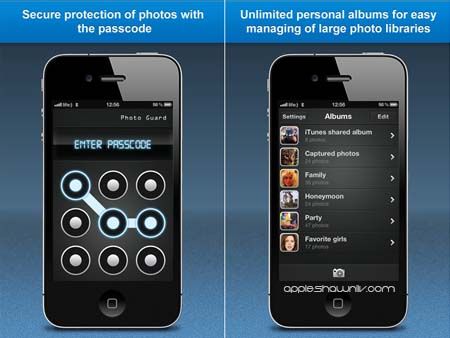 Developer: Pavel Tarabrin.
Categories: Productivity
Release Date: Feb 20, 2012
Language: English
Size: 3.9 MB
Price:Free Now!
Requirements: Compatible with iPhone 4, iPhone 4S, iPhone 5, iPod touch (4th generation), iPod touch (5th generation), iPad 2 Wi-Fi, iPad 2 Wi-Fi + 3G, iPad (3rd generation), iPad Wi-Fi + 4G, iPad (4th generation), iPad Wi-Fi + Cellular (4th generation), iPad mini and iPad mini Wi-Fi + Cellular. Requires iOS 4.0 or later.
Description
Photo Guard does the protecting images and Drawing an entangled line for a pattern lock is faster than entering a bulky passcode. In addition, if anyone tries to access the locked pictures, Photo Guard makes a shot. Thus it enables you to take precautions against the snoopy ones.

Photo Guard is also the secure photo manager for your device. You don't need any other tool to handle your picture library. Easy private albums managing, photos viewing and sharing make Photo Guard perfect for iPhonographers.
Photo Guard ultimate features:
Get the ultimate protection easily
✓ Photos protection. All your photos are stored within the app. There is no other way to access them
✓ Easy pattern lock. Drawing the pattern is the fastest and the easiest way to open your personal album
✓ Break-in attempts logging. Photo Guard captures intruder photos on unsuccessful logins
Manage the images in a couple of taps
✓ Unlimited personal albums. Handle your photo library and group your images the way you like
✓ Import and export photos in bulk. Tick off all the images you need and transfer them with a single tap
✓ Easy image viewing. Built-in viewer with multiple options
✓ Copy&Paste. Use the clipboard to move pictures between albums
✓ Rapid shot mode. You are able to instantly make as many photos as you want
Share your feelings in a single tap
✓ Effortless sending. Share images via email, Facebook and Twitter
✓ Syncing up. Transfer photos to Mac via iTunes shared folder
QR CODE

Download Link
Click Here To Download
Comments Off

on How to set passcode to protect your private photos ?
|
Categories
Quick Pick
Buy Me Coffee
Recent Posts
Blogroll