Apple blog reviews, tutorials, news and info. About everything iPhone, iPad, Apple Watch, Mac and iOS.


Activing Your iPhone
Before you can use any of iPhone's features, you must activate iPhone by signing up for a service plan with the iPhone service carrier in your area and registering iPhone with the network. If you already have a wireless account with the carrier, you may be able to upgrade your account to work with iPhone, or keep using your old phone and add a new line for iPhone. (Some accounts may not be upgradable.) You may also be able to transfer your current phone number to iPhone, or get a new one.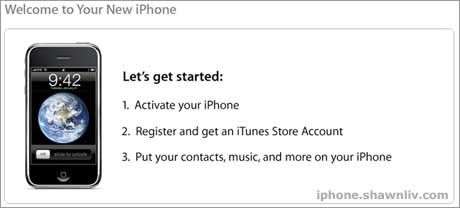 For more information about iPhone, including videos about how to activate and use it, go to:
www.apple.com/iphone

Inserting the iPhone SIM Card
In some regions, you may need to purchase the SIM card separately and insert it into iPhone before activation. Read the documentation that comes with the SIM card for instructions.
If your carrier gave you a PIN number to use with your SIM, you may need to enter the PIN before activating iPhone.
Activate iPhone
1. Download and install the latest version of iTunes from www.apple.com/itunes.
2. Connect iPhone to a USB 2.0 port on your Mac or PC using the dock and cable that came with iPhone. Unless your keyboard has a high-powered USB 2.0 port, you must connect iPhone to a USB 2.0 port on your computer.
3. Follow the onscreen instructions in iTunes to activate iPhone and sync iPhone with your contacts, calendars, email accounts, and bookmarks on your computer. A single checkmark in "Set Up Your iPhone" syncs all these items automatically. Or you can use iTunes to customize the information you sync, and to sync your ringtones, music, photos, podcasts, and videos to iPhone. See the following section.
You can disconnect iPhone from your computer after "Waiting for activation" appears on the iPhone screen.When activation is complete,"iPhone is activated" appears on the iPhone screen. This means that iPhone is fully functional and you can use all of its features.
Comments Off

on How to activate Your iPhone
|
Categories
Quick Pick
Buy Me Coffee
Recent Posts
Blogroll