Apple blog reviews, tutorials, news and info. About everything iPhone, iPad, Apple Watch, Mac and iOS.
Free Tracking Data Plan Usage for iPad & iPhone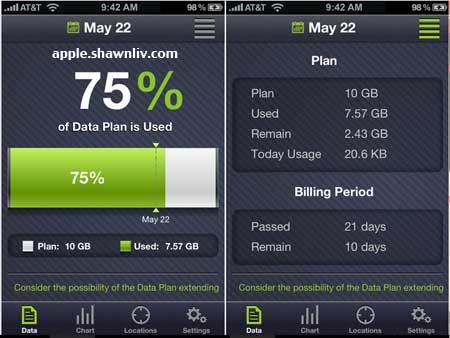 Developer: Sergiy Savenko
Categories: Utilities
Release Date: Aug 01, 2012
Language: English
Size: 10.8 MB
Price:Free
Requirements: Compatible with iPhone 3GS, iPhone 4, iPhone 4S, iPod touch (3rd generation), iPod touch (4th generation) and iPad.Requires iOS 4.3 or later.
Description
How to tracking your data plan usage ? 4Glob monitors is an application to check your data plan usage, shows you detail per day based statistic and can even notify you about data plan over usage saving your money!

1. Start of the program
When you first start the application, the program will ask for your permission to use the information about the device location; in order to calculate the Internet traffic correctly, the program will need your permission to obtain periodic updates on any change of location.
When you first start, you can input your current plan (mobile data usage) as well as the current data usage for that month.
2. Receiving and presentation of the data
The application periodically checks the size of the used data (mobile Internet) and presents the information about the usage of your data package in the following ways: statistics, progress bar, graphics, and maps with an indication of the places where Internet connection has been used.*
The frequency of checking may vary depending on how actively you use the phone.
3. Notifications
The application can inform you if you exceed the limit of your daily and monthly data usage as well as if you exceed the limit in the future.
4. Application settings
You can find out the size of your current data usage plan and enter the size of the used data at any time. You can reset the application either completely, or partially according to the statistics of your choice: reset the information for the past months, the current month, or traffic replenishment information.
* The application presents a set of dots on a map; these dots correspond to the device location at the moment when the information was updated. These locations MIGHT NOT always correspond to the real places where Internet connection has been used.
QR CODE

Download Link
Click Here To Download
Comments Off

on How to Check Your iPad or iPhone Data Plan Usage is Used
| August 15th, 2012
Categories
Quick Pick
Buy Me Coffee
Recent Posts
Blogroll