ShawnLiv iPhone iPod iPad Guides, Free Apps Download, Review, Tips and Tricks
iTunes Apple: Fat Kiosk for both iPhone, iPod and iPad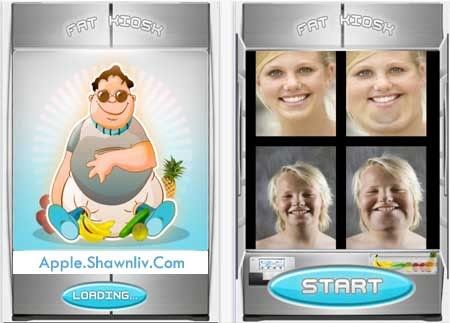 Developer: John Jaimovich
Categories: Photography
Release Date:11 May 2011
Language: English
Size: 11.4 MB
Price:Free !
Requirements: Compatible with iPhone, iPod touch and iPad. Requires iOS 3.0 or later.
Description
The app employs automatic face recognition to detect the eyes, mouth, and chin, and advanced image processing to simulate how that face would appear if the person gained 100 pounds and/or aged 20 years.

Photos may be taken from the Gallery or camera, and shared using Facebook, Twitter, eMail, or SMS (from the picture gallery, once it is saved). The app includes both automatic and manual controls, and works with any iPhone, iPad, or iPod Touch.
Feature Highlights:
✔ See what someone would look like if they were overweight
✔ Hi-tech image processing of actual photos produces realistic results
✔ Works on any iPhone, iPad, or iPod Touch
✔ Automatic and manual controls
✔ Share results from within the app using Facebook, Twitter, eMail, or SMS (from the picture gallery, once it is saved)
Categories
Quick Pick
Popular Posts
Buy Me Coffee
Recent Posts
Blogroll