Apple blog reviews, tutorials, news and info. About everything iPhone, iPad, Apple Watch, Mac and iOS.
Open zip file in your iPhone, iPod, iPad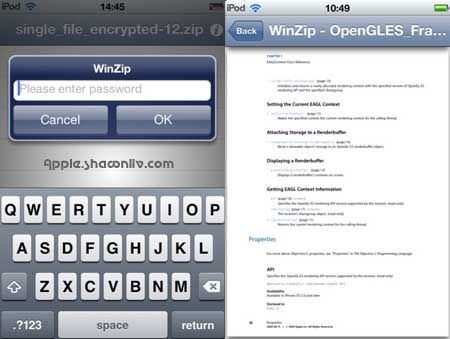 Developer: WinZip Computing LLC
Categories: Utilities
Release Date: Mar 13, 2012
Language: English
Size: 1.4 MB
Price:Free!
Requirements: Compatible with iPhone, iPod touch, and iPad.Requires iOS 4.2 or later.
Description
WinZip makes it easy to handle Zip and RAR files on your iPhone, iPad or iPod Touch! Whether you received a Zip or RAR file as an email attachment, or want to download and view the contents of a Zip or RAR file from the web, just "Open with WinZip".

View any of the following types of files within your Zip or RAR file:
• Word documents (.doc, .docx)
• Excel spreadsheets (.xls, .xlsx)
• PowerPoint presentations (.ppt, .pptx)
• PDF files (.pdf)
• Photos and images (.jpg, .jpeg, .png, .bmp, .gif, .tif, .tiff)
• Text files (.txt, .ini, .inf, .bat, .js, .log, .xml, .css, .java, .cs, .h, .m, .cpp, .c, .sql)
• Web documents (.htm, .html, .jsp, .asp)
• Rich Text Format documents (.rtf)
• Keynote presentations (.key)
• Numbers spreadsheets (.numbers)
• Pages documents (.pages)
QR-Code

Comments Off

on How to Open a zip file on your Apple device
| March 21st, 2012
Categories
Quick Pick
Buy Me Coffee
Recent Posts
Blogroll