Apple blog reviews, tutorials, news and info. About everything iPhone, iPad, Apple Watch, Mac and iOS.
Remote Control iTunes for iPad iPhone iPod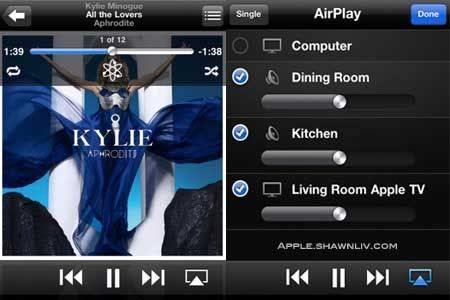 Developer: Apple Inc.
Categories: Entertainment
Release Date: Oct 21, 2011
Language: English, Chinese, Danish, Dutch, Finnish, French, German, Italian, Japanese, Korean, Norwegian, Polish, Portuguese, Russian, Spanish, Swedish
Size: 15.4 MB
Price:Free
Requirements: Compatible with iPhone, iPod touch, and iPad. Requires iOS 3.1.2 or later
Description
Control iTunes and Apple TV using your iPhone, iPod touch, or iPad over your Wi-Fi network. Choose playlists, songs, and albums as if you were right in front of your computer or Apple TV. From anywhere in your home change a song, pick a playlist or browse through your entire library. With a flick of your finger, you can even control every aspect of the Apple TV user interface. Use your device's QWERTY keyboard to quickly tap out the title instead of clicking letters on the Apple TV screen. Then keep tapping to play, fast forward, rewind, and pause to your finger's content. Remote has been fully optimized to take advantage of the large screen real estate of the iPad as well as the spectacular Retina display in the iPhone 4, and new iPod touch.
Features
• Control iTunes and Apple TV, from anywhere in your home
• Pause, rewind, fast forward, shuffle, and adjust the volume from your iPhone, iPod touch, or iPad
• View album, movie, and TV show artwork
• Create and update Genius playlists
• Create and edit playlists in iTunes
• Search your entire iTunes library
• Control iTunes to send music to AirPlay speakers
• Control the volume on each speaker independently
• Control Apple TV with simple finger gestures
• Enter text with the keyboard
• Even control Shared Libraries on iTunes and the new Apple TV
QR-Code


Click Here To Download
Comments Off

on How to Remote Control iTunes for PC and Mac
|
Categories
Quick Pick
Buy Me Coffee
Recent Posts
Blogroll