ShawnLiv iPhone iPod iPad Guides, Free Apps Download, Review, Tips and Tricks
Remotely connect to your Mac or Windows desktop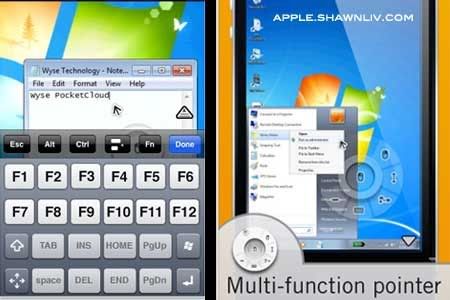 Developer: Wyse Technology Inc.
Categories: Productivity
Release Date: Oct 13, 2011
Language: English, Chinese, French, German, Japanese
Size: 13 MB
Price:Free!
Requirements: Compatible with iPhone, iPod touch, and iPad. Requires iOS 3.2 or later
Description
PocketCloud is a secure and fast way to remotely connect to your Mac or Windows desktop with your iPad or iPhone, no matter where you are. Access your files, pictures, and applications like Outlook, Word, Photoshop, games or any other program. Build your own personal cloud and keep your stuff where it should be. Simple to install with powerful features and RDP/VNC compatibility, make PocketCloud the best choice for remote desktop access.


Two Simple to Setup Options:
I) Auto Discovery (Recommended): PocketCloud enables hassle-free access to your desktops with minimal setup and no technical know-how. Simply install PocketCloud on your iPad or iPhone and follow the simple step-by-step instructions.
II) Advanced setup: PocketCloud can also connect directly to machines running RDP or VNC. Simply enter the IP address or hostname to connect.
QR-Code

Categories
Quick Pick
Buy Me Coffee
Recent Posts
Blogroll