Apple blog reviews, tutorials, news and info. About everything iPhone, iPad, Apple Watch, Mac and iOS.
Your Favorite APP for mobile phone photography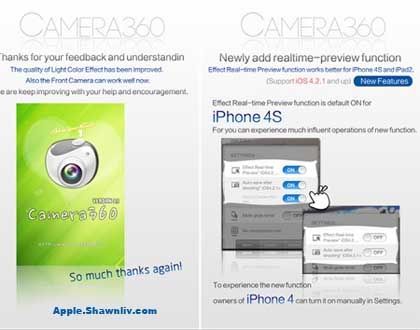 Developer: Xu Hao
Categories: Music
Release Date: Dec 14, 2011
Language: English, Chinese
Size: 27.1 MB
Price:Free!
Requirements: Compatible with iPhone, iPod touch (4th generation), iPad 2 Wi-Fi, and iPad 2 Wi-Fi + 3G. Requires iOS 4.0 or later.
Description
Camera 360 — The most popular APP for mobile phone photography on other platform, is unveiling on iPhone platform now, with its total now brand, interface and operation .Believe or not. It will bring you the great fresh experience.

Camera 360 is a world's favorite application software for mobile photo photography; it will let your photo taken by mobile photo more charming, interesting and funny.
The following are its shining points deserve your attention:
# Brand new operation interface: shoot in your most comfortable way, the shutter design is suitable for human engineering.
# Initiate focus and photometry by single finger slide
# Initiate removal red eye automatically
# Super continuous shooting: its speed will up to 180 pieces per minute and capture each fantastic moment.
# Two grid, four grid jigsaw shooting function: make your photo vividly
# Easy to share: direct to share your photo to Flickr, Facebook and Sina Weibo.
More than that, Camera 360 provides the most popular 13 kinds of special effect camera function as well, it includes:
Effect Enhancement Camera: choose this camera will make your photo's level more richer not only indoors but also outside, no matter day or night.
LOMO Camera: make your photo more magic and own your individual personality.
Black and White Camera: Even use the simplest black and white effect, you could feel the diverse experience from that, go to search please, believe it will bring you different surprises.
Japanese style Camera: Babes favorite, the sweet style.
QR-Code

Comments Off

on Must Have App for iPhone Photography – Camera360
|
Categories
Quick Pick
Buy Me Coffee
Recent Posts
Blogroll