Apple blog reviews, tutorials, news and info. About everything iPhone, iPad, Apple Watch, Mac and iOS.
Free Classic Word game for iPad iPhone iPod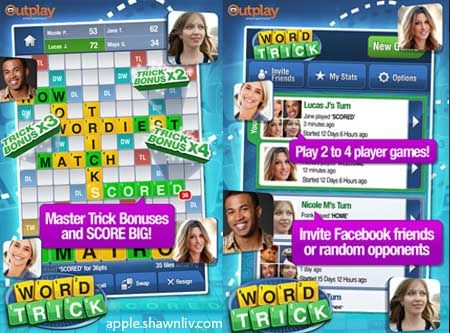 Developer: Outplay Entertainment Ltd
Categories: Games
Release Date: Jun 22, 2012
Language: English
Size: 12.2 MB
Price:Free
Requirements: Compatible with iPhone, iPod touch, and iPad.Requires iOS 3.1 or later
Description
Word Trick is a classic word game with a totally addictive twist! Rack up your word scores by matching special green TRICK TILES anywhere on the board – no two games are ever the same.

With 2 player, 3 player and even 4 player games, there are even more opportunities to play with friends, family and wordsmiths from all over the world.
Main FEATURES
– Rack up points with special TRICK TILES that double, triple or quadruple your word score… anywhere on the board
– Challenge your friends or get matched instantly with random opponents
– Play up to 21 games simultaneously in 2 player, 3 player, and even 4 player games
– Find even more friends to play with by connecting to Facebook
– Unlock 50+ awesome achievements and view them in Game Center
– Keep the conversation flowing with the bubbly in-game chat feature
– Share the game in person with the pass and play option
– Instant Push Notifications let you know as soon as it's your turn
QR CODE

\
Comments Off

on Play Crossword puzzle with the World
| June 24th, 2012
Categories
Quick Pick
Buy Me Coffee
Recent Posts
Blogroll