Apple blog reviews, tutorials, news and info. About everything iPhone, iPad, Apple Watch, Mac and iOS.
iTunes Apple: Good Ringtone Maker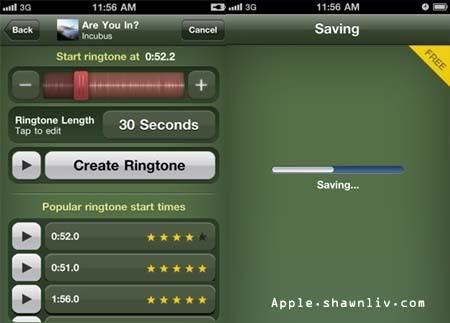 Developer: Smash Empire, Inc.
Categories: Music
Release Date:April 5, 2011
Language: English, Chinese,
Size:1.1.1 MB
Price:Free !
Requirements: Compatible with iPhone, iPod touch, and iPad. Requires iOS 4.0 or later.
Create unlimited free ringtones with the music on your iPhone®.?

Description

Features:
– Create unlimited ringtones, custom lengths… up to 40-seconds! Upgrade to PRO ($0.99) to remove advertisements.
– Supports popular audio-formats (MP3, M4A)
– Fine-tuning buttons (+/-)
– Suggested ringtone entry points from our website
– Ringtones may be used for alarm clocks & contacts
– Supports any iOS device running software 4.0 or later

To make a ringtone: 1) Open the App. 2) Choose a song from your device's iPod 'Music' Library. 3) Use the 'slider control' and 'fine-tuning buttons' to create the ringtone of your liking! — Instant previewing and unlimited, high-quality ringtone conversions are built-in. Completed ringtones are saved to your device and installed via 'iTunes File Sharing'.
Comments Off

on Ringtone Maker App for iPhone – Free Now
|
Categories
Quick Pick
Buy Me Coffee
Recent Posts
Blogroll