Apple blog reviews, tutorials, news and info. About everything iPhone, iPad, Apple Watch, Mac and iOS.
Free Emoticons Smiley for iPad iPhone iPod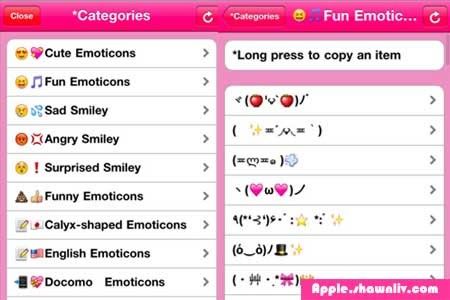 Developer: GeekAge, Inc.
Categories: Lifestyle
Release Date: 13 Sept 2011
Language: English, Chinese, Japanese
Size: 4.0 MB
Price:Free
Requirements: Compatible with iPhone, iPod touch and iPad. Requires iOS 3.2 or later.
Description
"Emoji and Smiley"is Great Japanese Emoticons and smiley!!
This is the first application adding Emoji to emoticons in the world.!!

Let's make mail and twitter lovely and cuty!!!!
"What's the emoticons!? "everyone may say to you!
Let's attract to the friend by using a cute emoticons!!
Let's try to brag to friends by using a funny emoticons!!
It is very easy to use!!
You can easily copy by tapping!
Because it works with twitter and e-mail and MMS,
you can use emoticons quickly without exiting the application!
QR CODE

Comments Off

on Simley Emoticons for Whatsapp and Facebook
|
Categories
Quick Pick
Buy Me Coffee
Recent Posts
Blogroll