ShawnLiv iPhone iPod iPad Guides, Free Apps Download, Review, Tips and Tricks
Install Skype on Your iPhone, iPod and iPad Now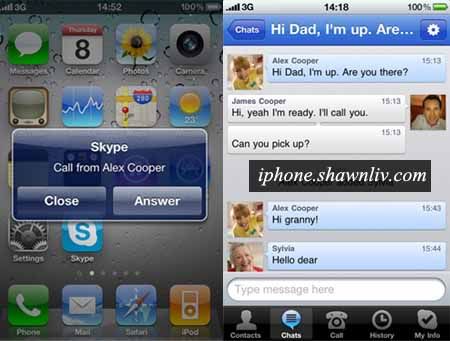 Company:Skype Software S.a.r.l.
Categories:Social Networking
Release Date:2010-08-16
Size:7.4 MB
Price:Free !
Description:
With Skype on your iPhone, iPod touch or iPad
What's New In Version 2.1.1
– You can now disable IM alerts.
– The dialpad is now more responsive.
– The behavior of the volume, when Skype interacts with other Apps, is now much better.
– When your status is set to Do Not Disturb, notifications are not shown when Skype is in the background.
Multitasking is available only with iPhone 4, iPhone 3GS and iPod 3rd Generation running iOS 4.
We recommend using Skype with iOS 3.1.x if you own an iPhone 3G or iPhone 2G.
With Skype on your iPhone, iPod touch or iPad, you can make and receive calls, and instant message anyone else on Skype, wherever they are in the world. You can also save on international calls and text messages to phones. Skype is free to download and easy to use. With the latest version, you can now call over 3G*, and keep Skype running in the background.

• Call Skype-to-Skype, wherever you are
Call your Skype contacts wherever you may be, either on 3G or WiFi, with near CD quality sound. It's completely free to call people on Skype over WiFi or 3G*.

• Great value international calls and text messages
If your contacts abroad aren't on Skype, you can still reach them and save with Skype's great rates. Call and text phones anywhere in the world directly from your phonebook.

• Instant message for an instant response
With Skype for iPhone, you can instant message one or many people on Skype at the same time, wherever, and whenever the mood strikes.
*Operator data charges may apply
– This version works on iPhone, iPhone 3G, iPhone 3GS, iPhone 4, iPad and iPod touch. Skype requires iPhone OS version 3.0 or above.
– Calling functionality is available on iPhone, iPhone 3G, iPhone 3GS, iPhone 4, iPad and 2nd generation iPod touch onwards. iPod touch requires a compatible headset with a microphone.
– Near CD quality sound for Skype-to-Skype calls using wideband audio (SILK codec) on iPhone 4, iPhone 3GS, iPad and 2nd & 3rd generation iPod touch.
Categories
Quick Pick
Popular Posts
Buy Me Coffee
Recent Posts
Blogroll