Apple blog reviews, tutorials, news and info. About everything iPhone, iPad, Apple Watch, Mac and iOS.
Latest Updates of Cydia/Installer Applications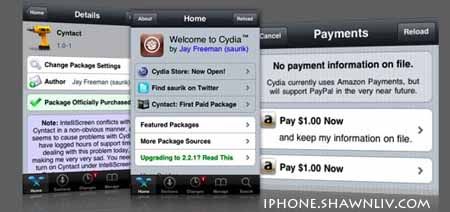 5-Row QWERTY Keyboard: QWERTY keyboard with the row of numbers.
20 Second Lock Screen : Makes the lock screen stay on for 20 seconds instead of 5 seconds
Activator : To launch them with gestures, status bar taps, and hardware button presses.
AddCallHistory: To add calls which haven't occured into the iPhone call history.
afc2add : Package to add afc2 service for USB browsing of filesystem.

Applinks: AppLinks automatically creates shortcuts for all AppStore apps for quick access.
backgrounder: It simply allows you to run your apps in background mode.
Blacksn0w : blacksn0w via Cydia to unlock iPhone 3G/3GS OS
bosspaper: To control preferences on your iPhone that Apple left out
Categories: Move your springboard icons into folders!
Cydelete : Deletes jailbroken iPhone applications straight from the SpringBoard.
Cydia in Chinese : Chinese Interface of Cydia
Extended Preferences: Extended Preferences is an application that adds additional.
Five Icon Dock : Five icon dock
FiveRow : Five row icon
FiveColumn: Five Column Icon
FontSwap: Default Font and replaces it with a Font of your choice.
kirikae: To switch directly from any application without going back to springboard
iblack : Allows you to create blank icons on the iPhone's springboard.
LiveClock: A live clock on your springboard
Lockinfo 2Do Plugin : Adds a native plugin for 2Do tasks to your LockInfo screen
Lockinfo Clock Plugin : Adds Date, Time and Calendar into the LockInfo lock screen mod.
Lockinfo RSS Plugin : Adds RSS feeds to your lockscreen.
Lockinfo Things Plugin : Adds a native plugin for Things tasks to your LockInfo screen.
Lockinfo Todo Plugin : Adds a native plugin for Appigo Todo tasks to your LockInfo screen.
Lockinfo Twitter Plugin : Adds a native plugin for Twitter to your LockInfo screen.
Lockino Weather Plugin : Adds Weather to your LockInfo screen including a six day forecast.
Lockscreen Clock Hide: Hide the clock on the lock screen.
Lockscreen Dim Delay Control: Ability to control your lockscreen's dim delay,
Map Enhancer: An addon or a tweak that adds special functions to the default google maps
MakeItMine : Change your mail name
MulticonMover: A mod that allows you to move more than one icon.
OpenSSH : Connecting to the iPhone remotely lets you use the full power of your device.
ProSwitcher: Allows switching between applications running in background.
QuickScroll 2: Quickly scroll in a page
ReflectiveDock: Reflection for icon
Rename : App Rename
SBSettings: Quick way to enable and disable functions
Springback: Backup and Restore your entire HomeScreen
SpringsJumps: Quickly jump to different SpringBoard pages.
Status Notifier :To place notification icons in your top taskbar.
Volume Boost: Boost your iphone volume
Weatherlcon: Icon for Weather
Winterboard: Able Change the Themes and individual icons, to customize your iPhone.
3 Responses

to "Top New Cydia/Installer Applications for iPhone/iPod 2010"
Troy Richardo Mulyono Says:
May 13th, 2010 at 9:47 pm

thanks for the info, you have an unique blog ! i like it ! :P

Meganfox Says:
January 11th, 2011 at 8:10 am

Hi I reach this site by mistake when i was searching Google for this issue, I must say your site is really helpful I also love the design, its amazing!. I dont have that much time to read all your post at the moment but I have bookmarked your site and also signed up for your RSS feeds. I will be back in a day or two. thanks for a great site.
Categories
Quick Pick
Buy Me Coffee
Recent Posts
Blogroll