ShawnLiv iPhone iPod iPad Guides, Free Apps Download, Review, Tips and Tricks

Limited offer start from 2009-11-21 -> Free Now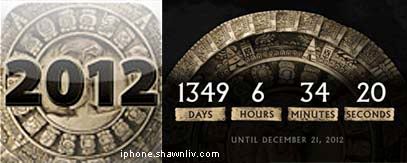 Company:Ambient Channel,LLC
Categories:Entertainment
Release Date:2009-03-06
Size:12.24 MB
Rating:4+
Price:Free Original Price:$0.99
Area:HongKong
This is the only 2012 countdown you will need. Features an ANIMATED mayan calendar always moving, always reminding you that time is of the essence. Each wheel of the clock animates independently in portrait and landscape mode.

Whether or not you believe in the 2012 phenomenon, you can't deny a beautiful time piece.
HINT: A surprise video and your Time Capsule messages wait for you when the countdown reaches December 21, 2012
·TASKS·
What do you want to accomplish within the next few years? To remove an item, hold with your finger then swipe. Simple and clean 'to do' list.
·DROP OF KNOWLEDGE·
One piece of advice or proverb for every day of the year.
·TIME CAPSULE·
Send yourself a message to the future and lock it with a turn of the vault wheel. Not to be opened until 12/21/2012
·FULL SOUND DESIGN·
Categories
Quick Pick
Buy Me Coffee
Recent Posts
Blogroll