Apple blog reviews, tutorials, news and info. About everything iPhone, iPad, Apple Watch, Mac and iOS.
Free All Emoticons Smiley for iPad iPhone iPod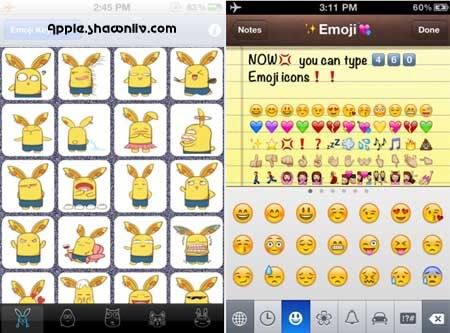 Developer: Kun Yang
Categories: Lifestyle
Release Date: May 04, 2012
Language: English
Size: 23.9 MB
Price:Free
Requirements: Compatible with iPhone, iPod touch, and iPad.Requires iOS 5.0 or later.
Description
The BRAND-NEW Emoji! ALL of emoji icons are FANCY AND NEW goodies!

MORE THAN 100 amusing emoji icons can be found here!
It's a THEME PARK of icons. Naughty CAT, DOG, RABBIT, PEAR and CARROT-LIKE HARE will welcome you. And bring you gleeful messages.
You can add them to your SMS, emails, notes, websites and ALMOST ANYWHERE you can type text.
Awesome Features:
★ NEW ★
All icons are completely DIFFERENT from the old one
★ UNIQUE ★
Creative and well-designed CARTOON images
★ AMUSING ★
A THEME PARK of icons: naughty CAT, DOG, RABBIT, PEAR and CARROT-LIKE HARE
★ ALL-AROUND ★
You can add to SMS, emails, notes, websites and ALMOST ANYWHERE you can type text
QR CODE

Comments Off

on Yet Another Simley Emoticons for Whatsapp and Facebook
| May 10th, 2012
Categories
Quick Pick
Buy Me Coffee
Recent Posts
Blogroll