Apple blog reviews, tutorials, news and info. About everything iPhone, iPad, Apple Watch, Mac and iOS.
Dot Lock Protection – iPhone, iPod, iPad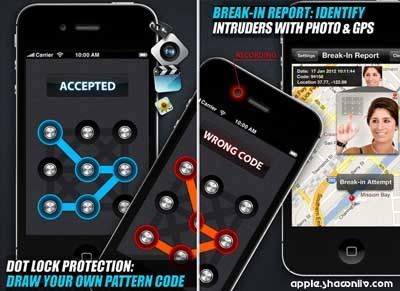 Developer: S & S Royal Ltd
Categories: Utility
Release Date: Jan 24, 2012
Language: English, Chinese, Dutch, French, German, Italian, Japanese, Korean, Portuguese, Russian, Spanish, Swedish
Size: 4.4 MB
Price:Free!
Requirements:Compatible with iPhone, iPod touch, and iPad.Requires iOS 4.2 or later.
Description
Secure your iPhone, iPod and iPad albums, photos and videos with Dot Lock Protection. Featuring exclusive Dot Lock or Key Pad lock screens and break-in reports with intruder's photo, date, time and GPS location on the map.

App Key Features:
√ Choose between dot lock & keypad lock screens
√ Break-in log tells you where and when the app had a break-in attempt and the code the intruder tried to use
√ Normal and fake password modes
√ Badge alerts will show break in attempts
√ Backup password via email
√ Create unlimited number of folders and sub-folders
√ Customize your folders and albums colors
√ Take private photos from within the app
√ Discreet icon design
√ Import and export Photos/Videos from or to Photoroll
√ Fully customizable slideshows
√ Full featured in-app video player
√ Share photos & videos via email
√ Full retina display support
Notes:
– Location services must be turned on in order for the app to access Photoroll, import photos/videos and
log-location of intruder break-in attempts on the map
– Intruder photo available for devices with front-camera only
– Photos and videos can be imported from Photoroll only
– App cannot delete photos/videos from Photoroll automatically after importing; you will have to do that manually.
All files are securely stored in the App and remain completely private and confidential.
QR-Code

Comments Off

on Android Dot Lock & Keypad Code for Your iPhone
|
Categories
Quick Pick
Buy Me Coffee
Recent Posts
Blogroll