Apple blog reviews, tutorials, news and info. About everything iPhone, iPad, Apple Watch, Mac and iOS.
Currency Converter App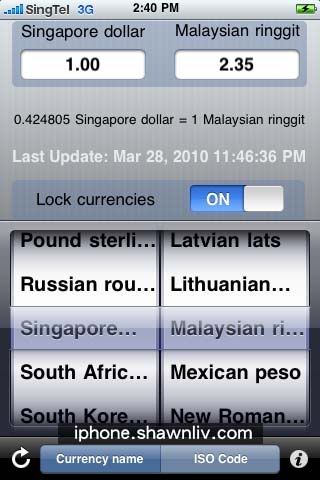 Singapore Dollar to Ringgit Malaysia
Categories:Finance

Release Date:2009-08-14

Size:0.1 MB

Price:Free
Description
Curry lite is the free version of the bizz consult currency converter for iPhone and iPod touch.
Curry lite comes with a set of useful features:
• 34 daily updated currencies
• fast download of exchange rates by button click
• date of last exchange rate download is displayed
• once downloaded, exchange rates can be used in offline mode as well
• selecting a new currency will re-convert the entered amount automatically
• currencies can be displayed either by their name or ISO-code
• selected currencies can be fixed to prevent misentries
• simple handling

Additional features of the full version (not included in this version):
• presently 65 currencies instead of 34
• currencies are updated on the server several times a day
• historical Euro parent currencies are supported – e.g. "German Mark" or "French Franc"
• internal currencies can be entered, edited and deleted. They are marked with an "i" before their name and appear in the currency table as well. They can be used just like the other currencies. Internal currencies will not be overwritten when downloading regular exchange rates.
Instructions for use:
• if necessary, update currencies (click refresh button)
• select currencies
• enter desired amount in one of the text boxes, the converted amount will be displayed in the other text box immediately
So, Download Now!
Comments Off

on Download Free Currency Converter for your Iphone, Ipod & Ipad
| March 29th, 2010
Categories
Quick Pick
Buy Me Coffee
Recent Posts
Blogroll