Apple blog reviews, tutorials, news and info. About everything iPhone, iPad, Apple Watch, Mac and iOS.
Emoji Free Icons Download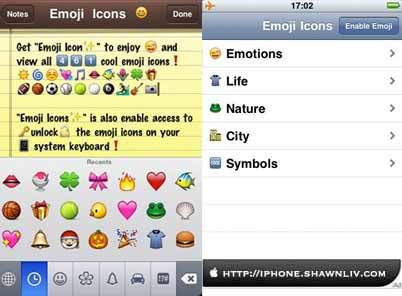 Company:Surpax Technology Inc.
Categories:Social Networking
Release Date:2010-01-02
Size:0.4 MB
Price:Free !
Requirements:Compatible with iPhone, iPod touch and iPad. Requires iOS 3.0 or later.
Description:
Emoji Icons Free contains all the references of Emoji Icons.
moji is the Japanese term for the picture characters or emoticons used in Japanese wireless messages and webpages. Originally meaning pictograph, the word literally means e "picture" + moji "letter". The characters are used much like emoticons elsewhere, but a wider range is provided, and the icons are standardized and built into the handsets.
Emoji can be used in SMS, Email, Notes and all messaging applications when you communicate with your friends.
Enjoy this free little app!
Categories
Quick Pick
Buy Me Coffee
Recent Posts
Blogroll