Apple blog reviews, tutorials, news and info. About everything iPhone, iPad, Apple Watch, Mac and iOS.
iTunes Apple: Motorized Prize Claw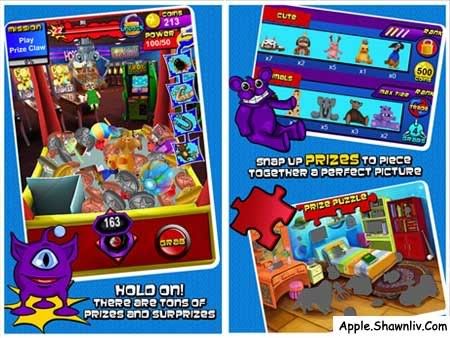 Developer: Game Circus LLC
Categories: Games
Release Date:Jun 20, 2011
Language: English
Size: 17.7 MB
Price:Limited Free Time !
Requirements: Compatible with iPhone, iPod touch, and iPad. Requires iOS 3.0 or later
Description
For years, you've been going to arcades and carnivals, trading quarters for the chance to grab toys and candy with a motorized claw. Claw games are filled with tense moments of wondering if the claw will drop your prize, coupled with the triumph of finally receiving it! PRIZE CLAW recreates that experience for your iPhone while adding many exciting new features!

Step up to the machine and maneuver the claw to grab coins, gems, stuffed animals, cars, dolls, and so many more! This claw game is much more than the standard grabbing you get from arcade machines, however: PRIZE CLAW is filled with all sorts of unique items, powerful effects and challenging missions. Special gems grant you bonuses to enhance your collection power, and you can trade the prizes you collect for extra special bonuses. Tons of prizes aren't the only thing you can trade in: All the coins you collect can be spent to upgrade your claw, activate your unique powers and even customize your machine! If you run out of grabs, don't fret! It won't take long before you receive more. Keep checking back to complete your collection and unlock more stuff!
Comments Off

on Free Arcade Game – Toys and Candy Grabber Machine
|
Categories
Quick Pick
Buy Me Coffee
Recent Posts
Blogroll