Apple blog reviews, tutorials, news and info. About everything iPhone, iPad, Apple Watch, Mac and iOS.
Street Fighter IV Complete Official Strategy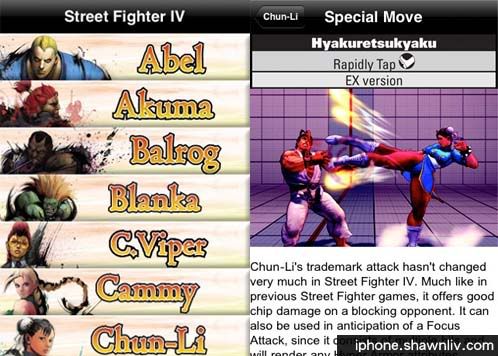 Description
Want to dominate Street Fighter IV and destroy all competition? Then you need to know the moves! Get in-depth profiles for all 25 characters including:
‧ Player Bios
‧ Move Lists
‧ Special Moves
‧ Super Combos
‧ Ultra Combos
Quickly determine each character's strengths and most powerful moves to see if it fits your fighting style.

This complete application includes strategy videos for Abel, Akuma, Balrog, C. Viper, Ken, Ryu and Sagat. See each character in action while an expert explains how to execute key moves and best combos, complete with on-screen commands.
Don't just fight. Dominate!
Also be sure to check out these individual StreetFighter IV Official Strategy Apps:
‧ Abel: Street Fighter IV Official Strategy
‧ Akuma: Street Fighter IV Official Strategy
‧ Balrog: Street Fighter IV Official Strategy
‧ C. Viper: Street Fighter IV Official Strategy
‧ Ken: Street Fighter IV Official Strategy
‧ Ryu: Street Fighter IV Official Strategy
‧ Sagat: Street Fighter IV Official Strategy
Categories
Quick Pick
Buy Me Coffee
Recent Posts
Blogroll