Apple blog reviews, tutorials, news and info. About everything iPhone, iPad, Apple Watch, Mac and iOS.
13 Voices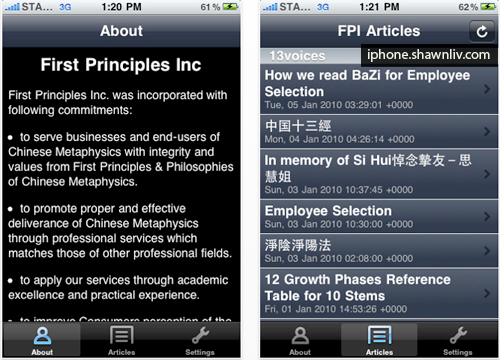 Categories:Lifestyle

Release Date:2010-01-30

Size:0.40 MB

Price:Free
Description
Learn and find out more about daily Feng Shui insights, interesting events and oddities around the world related to feng shui. Read Articles updated everyday by professional Feng Shui Masters.
Read and be updated on-the-go anywhere anytime.
*Note most articles are open but some articles just requires registration and this registration is free, click on the unauthorized article and login via the app browser & refresh the app to view again.

Features to be added:
1. Share via Facebook
2. Share via Twitter
3. Push Notification(new article)
4. Luo Pan
So, Learn Your Daily Feng Shui Tips Now!
Comments Off

on Learn daily Feng Shui with your iPhone
| February 4th, 2010
Categories
Quick Pick
Buy Me Coffee
Recent Posts
Blogroll