Apple blog reviews, tutorials, news and info. About everything iPhone, iPad, Apple Watch, Mac and iOS.
Free Web Browser for iPad iPhone iPod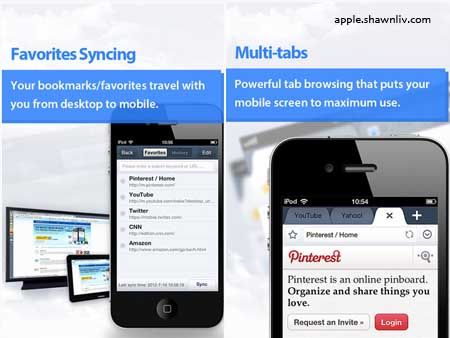 Developer: Maxthon Technology Limited
Categories: Utilities
Release Date: Aug 20, 2012
Language: English, Chinese, French, German, Hindi, Indonesian, Malay, Russian, Spanish, Thai, Turkish
Size: 2.8 MB
Price:Free
Requirements: Compatible with iPhone, iPod touch, and iPad.Requires iOS 4.2 or later.
Description
Yet another Web Browser "axthon" for your iphone, ipad and ipod. Accrodingly, axthon is the world's fastest and smartest web browser. The strength of the app include – fast, secure, smart and fun!
Here the solution for you to download youtube video for the iPhone. Generally, It is a user friendly downloader and file manager application for the iPhone. As a result, you can download videos from YouTube and play the videos even offline.

Maxthon Web Browser is the world's fastest and smartest web browser – fast, secure, smart and fun!
★Over 600 million total downloads
★Winner of About.com's best browser award for 3 straight years
★Powered by technology that achieved the highest HTML5 score
★★★★★BY FAR, THE BEST !!!!This web browser is better than ALL the others !!! Try it, you'll love it !!! Joey Did & Does !!! So will YOU – by Jose, 2012
★★★★★Maxthon really IS the best now!What a change. Someone has been hard at work; this browser is the most reliable of my chosen lot. It gets me there fast with little fuss. Quite impressive. Many thanks to the developers for their willingness to bring this changed project to such a happy and helpful conclusion. – by Elizabeth, 2012
Maxthon Web Browser is packed with cool features like:
★Sync to the Cloud – Your bookmarks/favorites travel with you anywhere you go.
★Private browsing – Ability to browse the web without saving any browser history.
★Reader mode – Great reading experience with ad-filtering, perfect for reading news articles and stories.
★Amazing speed – Mobile web surfing lightning fast.
★Absolutely free, no advertisements!
★Quick Access – Quick access of the best sites on the web.
★Download Manager – Makes it easy to sort, schedule and grab the downloads you need: wherever, whenever.
★Tab browsing – Powerful tab management that puts your mobile screen to maximum use.
Simply put, this is the best web browser app for iPhone, and it's free!
QR CODE

Download Link
Click Here To Download
Comments Off

on Yet another fastest and smartest web browser
|
Categories
Quick Pick
Buy Me Coffee
Recent Posts
Blogroll